In 1957, Ghana, the former British colony of the Gold Coast, became the first country in colonial Africa to gain its independence.
Considered a major player in promoting peace in the West African sub-region, as witnessed by it's involvement in regional peacekeeping forces and diplomacy.
Ethinic groups of Ghana: Akan, which include the Ashanti and Fanti (44 percent); Moshi-Dagomba (16 percent); Ewe (13); Ga (8 percent); as wll as many smaller distinct ethnic populations wth seperate languages and traditions.
Languages: English (official), Akan 49%, Mole-Dagbani 16%, Ewe 13%, Ga-Adangbe 8%, Guan 4%, others 10%.

Current population just under 20 million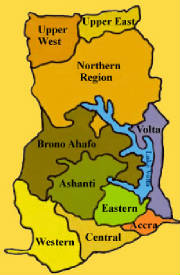 10 Ghana Regions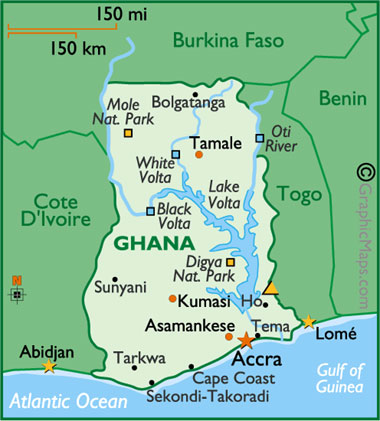 Links:
More about Ghana